Kangurek Kao is a title that struck the hearts of Polish fans in 2000, when the first game in the series saw the light of day. Its return after many years arouses positive emotions, especially among fans of classic 3D platform games. Because Kangurek is a nostalgic trip – with luggage all its advantages and disadvantages.
I had the opportunity to play with my daughter in the new adventures of Kangaroo in a special show organized at the developer's headquarters, because you can take your children with you to the event. And this cooperation between generations perfectly fits with the story of the game, the protagonist of the production is the son of the famous Kangaroo Kao, who inherited his father's name. Mammal goes in search of his sister and of course faces another battle with evil. The plot is simple, concise, ideal for children to follow, after all, the events lead the viewer with decent Polish dubbing, and the dialogues can make the father smile. Of course, loyal fans will also smile under their breath, pick up flavors and nods to Kao's past adventures, and even meet old friends.
Almost like Golota
Although my daughter had no idea about the events of the previous episode, she followed the animation and dialogues with the animals she met with interest. So there is no need to get acquainted with the previous adventure, and for the most hesitant people there is a special encyclopedia in the list, in which we open various information related to the plot and characters of this world. Well there is also a shop where we can buy different items of clothing, a pity that in the demo the sanctuary offered a fairly limited number of kangaroo rags, because my daughter wanted to buy new accessories every now and then and I had to avoid that store with a wide berth.
Kao can blow his nose with his boxing gloves, and the combat system allows you to tackle a plethora of different freaks that look like frogs or other moving flies. There were also playful projectiles, rolling and bouncing shells with the tail and end hits.. Graphic effects such as comic BOOM or boss fights, consisting of several stages, which you should think about a little, are interesting. So I would like to emphasize once again – standard, nothing original, but it fits the game formula for young children perfectly.
But since I mentioned that this game is designed for younger fans of digital entertainment there is also no reason to expect a high level of difficulty, in a couple of hours of fun I probably died three times, just because I tried to stick my nose in some places where I shouldn't have found myself By checking how well a kangaroo can swim without drowning. It is a simple and convenient production that we pass quickly, but it offers a lot of collectible coins and collectibles, thanks to which you can spend more time on the levels.
So mastering everything 100% is really a challenge, sometimes after completing a certain world I was amazed how much I missed. It is worth noting that there are new challenges similar to Tony Hawk. In a skateboarding adventure, we collected the letters SKATE levels, in the production of Tate, as in the title, they are KAO letters. On the other hand, if you want to get lost in the next stages, you are unlikely to be sober. Even open spaces don't have the hallmarks of a true semi-open world.
to love kangaroo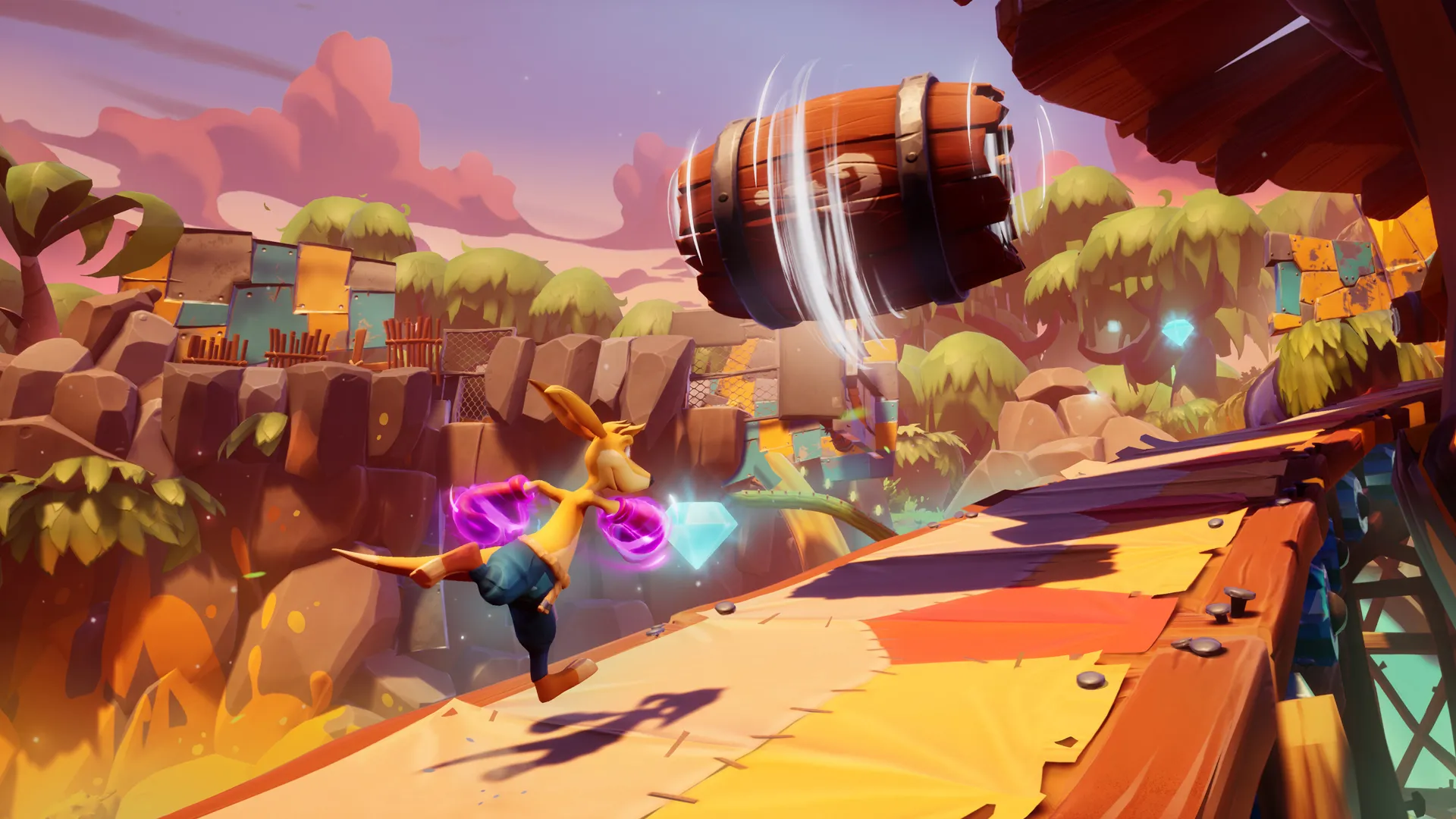 It's worth realizing that this isn't a high-budget production like the new Crash or later Mario games. It is neither extensive nor very accurate when it comes to graphics. The levels we will unlock in the main HUB as our base are quite linear, it's also hard to find here such puzzles and creative mechanics as in Mario or Kirby platforms, but there is a nice atmosphere from the glory days of 3D arcade games to it.
Colorful levels, very cute heroes, really responsive and accessible controls, camera that works relatively well, simple environmental puzzles to diversify the fun and different levels (you should know, there must be jungle, beach, winter, lava caves, including tropical HUB), simply make a positive impression. Sometimes the game also collects associations with the first part of Jak and Dexter's adventures, and that's probably fine.
Kao the Kangaroo is a title that can captivate, even if we are talking about an AA title with not very complicated mechanics. It's just a very nice game, and my daughter keeps asking me when she'll be able to play Bunny again. Yes, you called the kangaroo a rabbit, but who would stop the baby? 😊 For fans of harkor platformer games, the title may prove to be a vocation in terms of challenge and complexity, let's be aware of that, but if you are looking for a relaxing old platformer game that you can play with your kids without stress – go ahead and attack the premiere. Your kids will probably give the kangaroo five. My daughter can attest. Although I don't know if she got bribed by cupcakes, toasted and fresh popcorn! So he has something of a game journalist 😉
"Devoted organizer. Incurable thinker. Explorer. Tv junkie. Travel buff. Troublemaker."