Rangers conceded their first goals in the Scottish Premier League this season but rose to the top despite a draw with Hibernian in Leith.
Dre Wright stabbed Hipps ahead after 22 minutes, the Rangers' first domestic goal since March 4.
Alfredo Morelos managed to put pressure on the visitors in the first half and Scott Arfield shot them in the lead.
Christian Doidge nodded to Hibs but Auvers Marciano had to brilliantly deny Arfield late with a double save.
The Israeli goalkeeper twice stopped the Canadian international at close range after the midfielder was dispatched sprints across goal amid the Rangers' attack.
Steven Gerrard's side moves one point away from second-placed Celtic after playing more matches, while Hibs is further away.
Rangers led the tumultuous opening quarter, and Morelos turned down a chance to break the deadlock after 10 minutes when he deflected a free-kick off a corner kick from Ianis Hagee at five yards.
It took a while for the Hibs to wake up as an attacking force, but when they did, it was expressive. Kevin Nisbet threw a Wright chop at the edge of the Rangers' box, turning and John McLaughlin's shot through the goalkeeper's good save.
Then came the opening match, with Nisbet moving on the right side to Boyle, who had Wright stabbed his square ball between McLaughlin's legs. It was the midfielder's first goal in 764 days and was critical to Jack Ross' men.
The Rangers rebounded, but the equalizer chances were fleeting. Morelos, as is often the case, had to deliver. The Colombian was inconspicuous for most of the first half, but in Final Affliction, he is back alive inside the Hibs box. Leaving Martin Boyle without criminal oversight at the back post, he softened Ryan Kent's cross before he skipped over Marciano. It was the first goal Hibs received in open play this season.
Rangers lead 12 minutes into the new game. A great interaction between Arfield and Ianis Hagi, the latter's return ball to Arfield in particular, put the midfielder into the net. Marciano turned a powerful shot from Kent away in the hour as the Rangers stormed the Hibs at break, but the homeowners were far from dead and buried, and still able to hit raids on the field.
McLaughlin saved Ryan Porteous in close range and the rebound painfully fell behind Nisbet. There was no stopping Doidge, though, as the Welshman ran towards the far post to meet Boyle's stately cross. Repeats showed Hibs winger was offside when he held the ball to the edge of the area.
The Rangers lay siege to the penalty area at the end, sending Gerrard to Germain Defoe and Cedric Iten in a desperate quest for more firepower and an impressive goal. Hibs rocked at times, spurred by passion and steel if not perfect style. Marciano's brilliant tackle and a series of headers, hooves and blocks all contributed to an impressive point.
Man of the Match – Iannis Hagee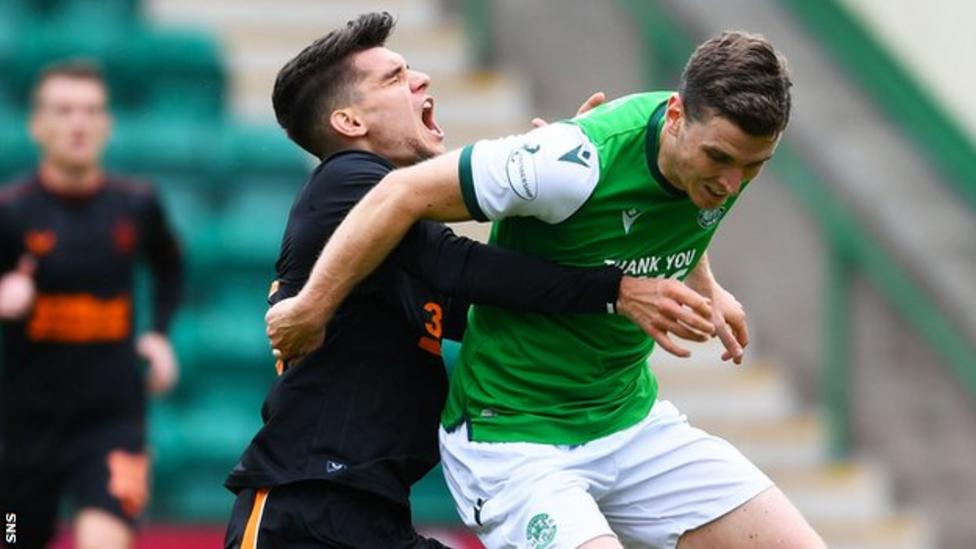 what did we learn?
Often times, the Hibs have been overtaken in midfield by the Premier League's more efficient attacking units. They showed more sting and stamina this time around, with Joe Newell particularly hard-working and tidy on the ball, but Ross could still use more dynamism in the central zone.
For the first time this season, the Rangers were asked serious questions and were challenged to come from behind against a Premier League team. They responded well and dominated the game after falling behind, but their failure to convert dominance into goals and points was a crucial drawback last season. In the title race, Gerrard will see this as a missed opportunity.
More to track.
Line up
Hibernian
1

Marciano

6

McGinn

Booked in 60 minutes

5

Porteous

Booked in 35 minutes

4

Hanlon

Booked in 37 minutes

10

Boyle

Booked in 80 minutes

8

I have seen

Replaced with

Hallberg

in a

90 '

Minutes

13

Gojek

11

Newell

25

Doig

Replaced with

Stephenson

in a

63′

Minutes

9

Dwidge

15th

Nisbet
Alternatives
2

the colour grey

14

Malan

16

Stephenson

19

Golan

20

Hallberg

22

McGinn

24

McGregor

29

Shanly

33

Barnes
Notifications
33

McLaughlin

2

Tavernier

6

Goldson

5

Helander

31

Parisic

10

Davis

18

room

Replaced with

Witten

in a

85 '

Minutes

37

Warfield

14

Kent

20

Morelos

Booked in 90 minutes

7

Haji

Replaced with

Defoe

in a

75 '

Minutes
Alternatives
1

McGregor

3

Basie

4

Edmundson

9

Defoe

11

Witten

16

Patterson

22

Jones

26

Balogun

36

Bargonas
Live text
The match ends, Hibernian 2, Rangers 2.

The second half ends, Hibernian 2, Rangers 2.

Wrong from Jermain Defoe (Rangers).

Martin Boyle (Hibernian) wins a free kick in the defensive half.

A yellow card was shown for Alfredo Morelos (Rangers).

Substitution, Hypernian. Melker Hallberg replaces Dre Wright.

Wrong by Cedric Itten (Rangers).

Paul Hanlon (Hibernian) won with a free kick in the defensive half.

Alfredo Morelos (Rangers) free kick in the offensive game.

Wrong by Alexander Gojek (Hibernian).

Fault from Connor Goldson (Rangers).

Kevin Nisbet (Hibernian) wins a free kick on the left flank.

Switch Rangers. Cedric Itten replaces Glen Camara.

Fault from Scott Warfield (Rangers).

Kevin Nisbet (Hibernian) wins a free kick in the defensive half.

Wrong by James Tavernier (Rangers).

Louis Stevenson (Hibernian) wins a free kick in the defensive half.

Attempt is prohibited. Scott Arfield (Rangers) shoots with his left foot from the center of the penalty area.

A yellow card was shown to Martin Boyle (Hibernian) for bad foul.

Corner Rangers. Ofir Marciano.
"Extreme organizer. Problem solver. Passionate web buff. Internet expert. Devoted travel nerd. Professional troublemaker."