With West Ham players collectively heading to Angelo forced us after the sabbatical here, the celebrations seemed to connect them as much as they felt joy.
Ten minutes before a header forced Leeds back to another home defeat, I felt as though a mixture of extravagance from visitors and Elan Meisler's heroics would leave West Ham for London with just one point, instead of three. Which ultimately propelled them to fifth place before the rest of the weekend's events.
But this West Ham team, which continues to show promising signs under David Moyes, would be nothing if not determined. Even after Ogbonna's victory, it was the visitors who pressed for another goal, unlike Leeds who were scrambling for an equalizer who, on the balance of play, arguably did not deserve given the dominance of their opponents.
Leeds has clear defensive weaknesses, not only are West Ham's two set goals, but the fact that only West Bromwich Albion have conceded more goals than Marcelo Bielsa's side this season. Nevertheless, the sheer number of opportunities created by West Ham confirmed they are heading in the right direction this season.
But how far can they go? "Well, I can only talk about what we've done so far," Moyes said. "We were fine after the lockdown but we got better again. This game, which Leeds is playing, is different from any other game you have faced in the league but we were good. We had good chances to come out ahead."
I've always felt that Leeds, more than others, will suffer some semblance of fatigue behind closed doors in this campaign. This is reflected in their form at home since the promotion, with only one win and five points from their first six home matches this season. Here, they could not have any complaints about the method of their recent defeat.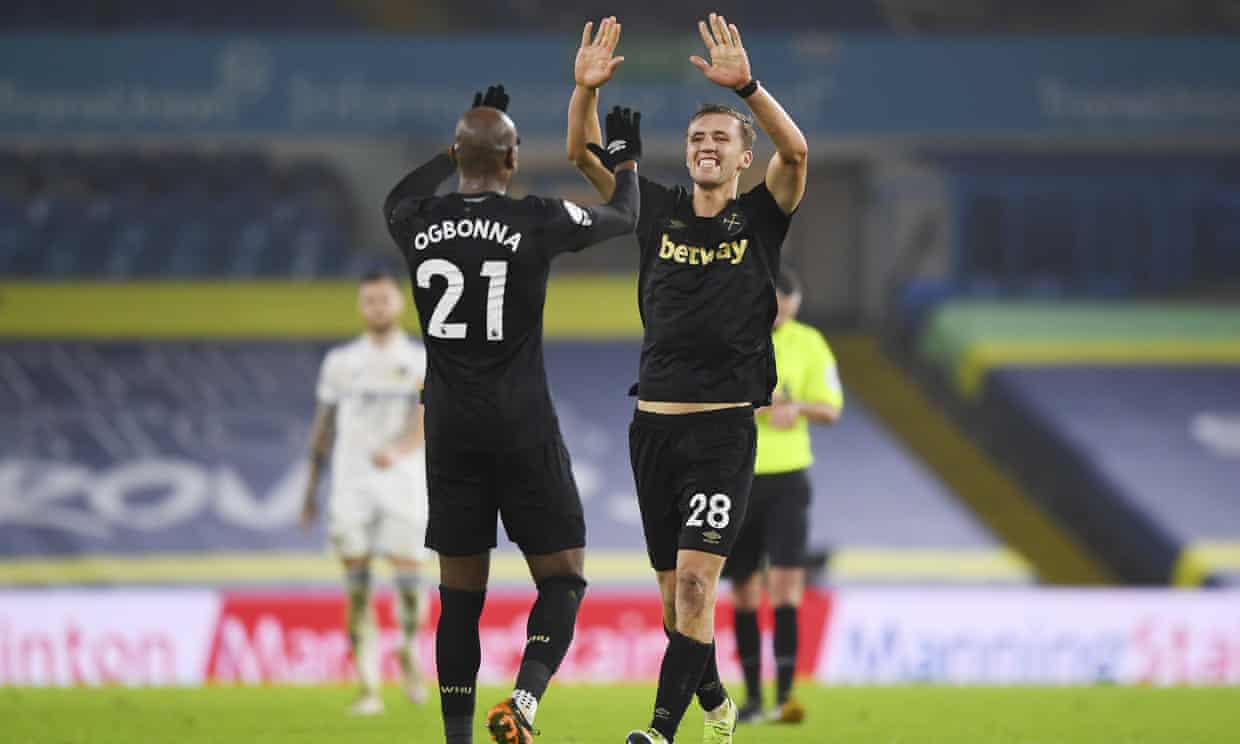 The promise they had started with, which led to Matthews Clich's penalty back, quickly faded, giving them the lead after Lucasz Fabianski's foul on Patrick Bamford. Forced defensive dribbles have been very frustrating for Leeds this season, and they were forced to play another game here, with Luke Aaling being assigned the center of the defense for injured Robin Koch.
But nearly half of Leeds' goals conceded under Bielsa came from set pieces, and those old habits haunted them again. Tomas Soucic was met with a cross pass by Jarrod Bowen, and while Messliere should have been better at preventing the Czech midfielder from scoring his third goal in four matches, he was decisive in keeping Leeds in the match after that.
But despite a series of missed opportunities, many of which fell to Sebastian Haller, it was another dead ball, sent by Aaron Creswell and finished by Ogbonna, which was crucial. Bielsa insisted that "what is happening is not exclusive." "This is a problem that we are facing, we encountered it in the past before, we solved it and now it happens again. There are no mysteries in the things we have to do."
Not even a tactical adjustment after the first half, as Bielsa completely changed his left side and introduced Jimmy Shackleton and Helder Costa, halting West Ham's dominance. Bamford shot at a small range after the start of the second half, but visitors quickly enjoyed the majority of opportunities.
Bowen found Haller unchecked in the six-yard box, but his shot was stopped by Eling, before Pablo Fornals pulled a narrow distance, and Fabian Balbuena was denied by a stunning one-handed save from Missler, who looked like he would atone. He misses and his team earns a much-needed point.
But when Ogbonna outmaneuvered the Leeds defense, turned back and headed into the top corner of the Missler net, the defenders fell to their knees, knowing their Achilles' heel had hit again. With Leeds starting to figure out the hard way, there's no room for travels of this size in Premier League.
"Proud creator. Amateur music junkie. Tv scholar. Web fan. Lifelong alcohol lover. Falls down a lot. Hardcore thinker."